ART SHOP
includes important information and links regarding purchasing ibooks, Victor's art prints and Barbara's art cards
For all of you who don't know much about Vic and I, our lives as professional artists are filled with lots of hard work, tons of fun and silliness and a huge variety of interesting art print projects.
Victor Bosson
A Boy and his Computer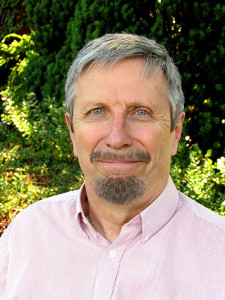 Early on in his diagnosis of Multiple Sclerosis in 1981, Victor had difficulty holding his pencils and paint brushes. Victor loved painting with watercolours but decided that the handling of delicate watercolour washes on large sheets of stretched watercolour paper was becoming too problematic.
Victor Goes Shopping  In 1983, after much thought and research, Victor put his paints, brushes and pencils aside and purchased a state of the art IBM computer. Art and painting software programs were rare in the early 1980's but Victor found Lumina, a superior art software program for his new IBM XT. An added feature to his computer purchase, was a Scriptel digitizing tablet which came with an attached electronic stylus. Victor was ecstatic, the drawing and painting stylus and tablet worked perfectly with his hands. With added finesse and more control with the stylus and the program's brush and tool selections, he was once again creating gorgeous watercolours and drawings. Victor could digitally mix colours, apply large watercolour washes without fear of it drying before he was finished the wash. If he needed to stop in the middle of a big background wash, he could tell the computer to keep the paint "wet" and continue days or weeks later when he regained his energy to paint.
BOOK ILLUSTRATOR  As an artist with ever increasing physical challenges, computer technology gave Victor a new lease on life. His upbeat approach to life and art gave him energy to continue making innovative artworks. After many illustration projects and gallery exhibitions of his paintings, Victor was approached by Orca Book Publishers in 1994 to illustrate Laura Langston's children's book, The Magic Ear. After the success of Laura and Victor's first book together, Orca Books in 1997 commissioned Victor to design and illustrate Langston's next classic story, The Fox's Kettle. Victor happily took on the book project and designed and illustrated The Fox's Kettle utilizing his computer programs Corel Painter, Corel Draw and Adobe Photoshop.
To make a long story a bit shorter… In 1998, Victor Bosson was nominated for Canada's most prestigious award – The Governor Generals Award for Illustration in Children's Literature for his design and illustrations in The Fox's Kettle.
ART SHOP Exciting News!!!
Thanks to Crow Cottage Publishing, the celebrated classic stories of The Fox's Kettle and The Magic Ear have come full circle and are now available for the new generation of young iBook readers.
 To hear the enhanced music, sounds and narration by author Laura Langston, the iBook reader can PRESS the kettle icon or the shell icon at the bottom of each page of The Fox's Kettle and the Magic Ear iBooks
 The Fox's Kettle is now available
only $7.99
To purchase or preview The Fox's Kettle iBook
https://itunes.apple.com/ca/book/the-foxs-kettle/id681320325?mt=11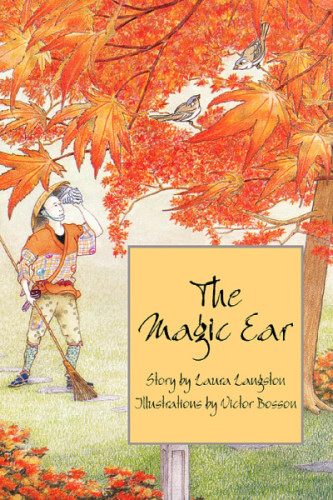 To purchase or preview
THE MAGIC EAR ibook for children
Only $ 6.99
 https://itunes.apple.com/us/book/the-magic-ear/id766073187?ls=1&mt=11
Crow Cottage link http://crowcottagepublishing.com/the-magic-ear/
 ::::::::::::::::::::::::::::::::::::::::::::::::::::::::::::::::::::::::::::::::::::::::::::::::::::::::::::::::::::::
SEE WHAT GOES INTO MAKING Victor's eBOOKs
The Fox's Kettle iBook is media rich with enhanced sound, music and narration by author Laura Langston.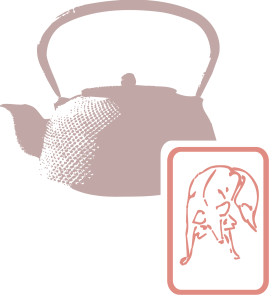 ********************************
Visit Victor Bosson's online Art Print Gallery

In Victor's online art gallery, you will find a selection of his beautiful illustrations from author Laura Langston's children's books – The Magic Ear and The Fox's Kettle, plus Bosson's humour and satire and his take on Mid Century advertising. Mad Man, Don Draper and Betty Draper and many other quirky characters spill out on Bosson's The Joy of Drinking Series.

Victor Bosson's Android's World

New to Victor's online art print gallery is his Androids Series. Victor's androids and robots exist where humans lived for thousands of years. Enjoy Victor's world where each androids is living his or her life to the fullest (without the interference of humankind). http://www.androidsworld.etsy.com 
                                                                               Angie Droid Goes on Vacation
***********************************************************************************************************************************
Barbara's Neighbourhood Series Art Cards
PURCHASES
Many retail shop owners and shoppers have inquired about quantity and discounted prices for Barbara's art cards.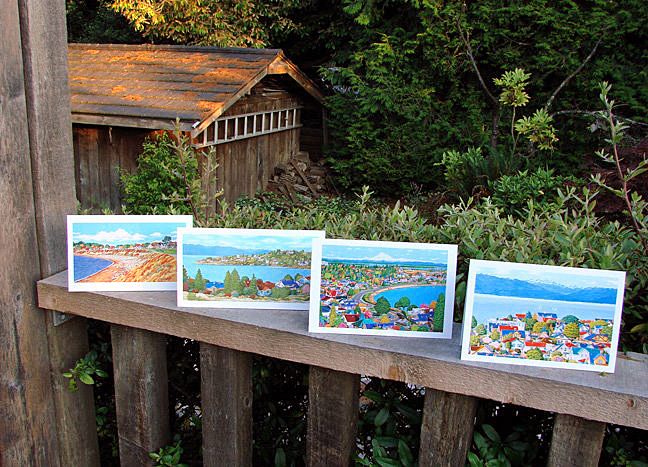 For quantity orders of Barbara's Neighbourhood Series Art Cards
please contact Barbara weaverbosson@shaw.ca
All art card purchases will be by quotation and if you live out of the Victoria area, will include shipping. Your purchase can be safely processed through PayPal.