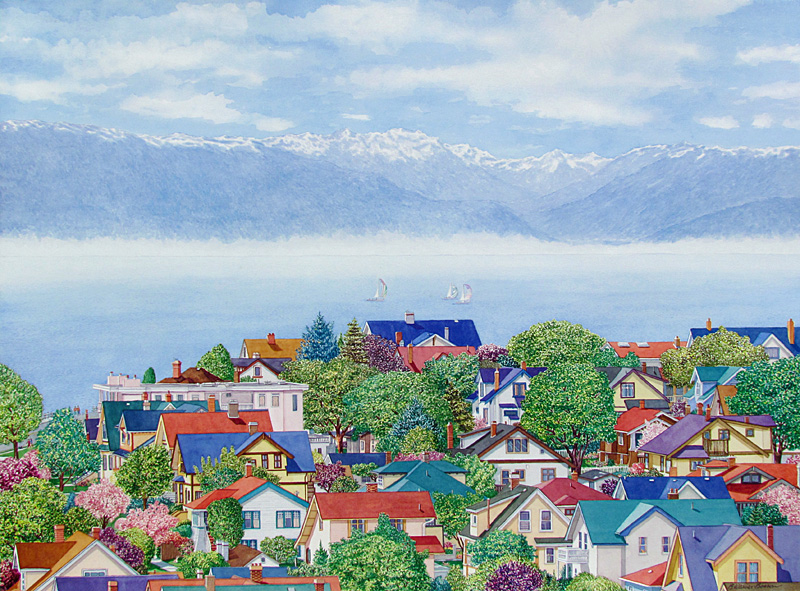 Victoria – As Seen Through the Eyes of one Artist
FROM THE PRAIRIES TO THE WEST COAST

Born in Calgary, Alberta, Barbara was a very creative child and enjoyed drawing at a very early age. Active in many organized school and community sports, Barbara also loved expressing herself and received excellent school marks in all grade levels of art and creative writing. The community minded and family oriented Calgary neighbourhood of Shaganappi where Barbara lived and grew up, was a friendly and engaging community and was to, in the years to come, become a great inspiration for the young artist.
ART SCHOOL
In the 1970's, Canada was a very liberal place to live and grow up. Seeing that her vocation was in the visual arts, Barbara was encouraged by family and teachers to complete grade 11 high school and immediately apply to Calgary's Alberta College of Art (now known as ACAD). Barbara was accepted into the A.C.A. at the age of 17. After her first year at A.C.A., Barbara's 4 year Fine Art program included her major in painting and minors in printmaking, communication design, drawing, sculpture and figure studies.
During art school, her love of landscapes were evident as she enjoyed many field trips to the countryside with her fellow A.C.A. landscape painters. She loved the prairies, the foothills and mountains near Banff and the Kananaskis. In the spring of 1974 Barbara graduated with a Diploma of Applied Arts. After one year of working as an illustrator, copywriter and layout artist in a Calgary advertising agency, Barbara left her hometown of Calgary with her partner, artist Victor Bosson and their close friend and art school colleague, comic book artist John Byrne. Barbara, Victor and John, packed up their art studios and moved to B.C.'s capital city of Victoria B.C.
WORKING ARTIST and A DAY JOB

Jobs in Victoria were very scarce in 1975 and even harder to come by for skilled artists in creative fields. For a few months, Victor Bosson and Barbara Weaver were fortunate to be employed by their friend John Byrne (Byrne Robotics) as background artists for several of his comic book and fanzine projects. After Byrne's departure for the bigger city lights, Barbara and Victor were offered an opportunity to work along side Victoria's glass artist, Gerald Eversole. Eversole, well known for his stained glass window art and designs, hired and trained Victor and Barbara to assist in his substantial stained glass window contract for the Government of B.C. Both Barbara and Victor found full time employment in various creative and non creative jobs.
In the mid 1970's, Victoria's art scene was very lack luster but Barbara and Victor were not alone in their quest for making Victoria a thriving artistic community. Soon their circle of friends expanded as they began to seek more exhibition opportunities and join ranks and become friends with Victoria's finest young designers, illustrators and painters. While painting evenings and weekends Barbara worked full time as a sales assistant in art supply and graphic design stores.
WEAVER-BOSSON'S FIRST ART EXHIBITION IN VICTORIA

As Weaver-Bosson painted and experimented with water colour, oils, acrylics, and printmaking, she became influenced by Victoria's coastal geography and the moods of the seasons. Barbara's love of her new B.C.surroundings connected her with the landscape painting of Canada's foremost landscape painter, Victoria's own, Emily Carr. ( 1871 – 1945).
In 1978, Barbara's first solo exhibition was of her paintings and mono prints of B.C.Coastal and Alberta Landscape images. Her show represented 5 years of landscape transitions created in Calgary and Victoria – titled Where the Sky, Earth and the Water Meet, was exhibited in the historic family home of Emily Carr, ( The Emily Carr Art Center,  204 Government Street )
For a time, in 1978 Barbara set up a private painting studio in the co-op artists studio at Signal Hill on Esquimalt's DND grounds. The peace and quiet of her new studio location inspired the artist to develop her distinctive west coast series and establish herself throughout Victoria private galleries. Many of her art works from this time period comprised of coastal imagery in mixed mediums of water colours, inks, gouache, acrylics and pigmented coloured pencils. Weaver-Bosson focused on expressive paintings with tree shapes, textured patterns, coastal land forms and gardens.
 THE NEIGHBOURHOOD SERIES

In 1980, after moving to the Moss Rock area of Victoria's Fairfield neighbourhood, Barbara's expressive landscape painting style changed dramatically. Daily visits and walks to Moss Rock Park and Gonzales Hill, greatly inspired Barbara and she was soon swept up by a life altering epiphany and community vision. Growing up in a close knit community in Calgary, Weaver-Bosson's new paintings revealed a brand new direction and spoke of a cohesive friendly community. Her new Neighbourhood Series paintings revealed rooftop views and many character homes snuggled together on tree lined streets. Barbara's detailed expansive rooftop painting views from the rocky outcropping of Moss Rock and many of the hill tops above Victoria's shoreline, gave all her art viewers a new perspective of their community and shoreline neighbourhoods.
 After several months of Architectural Rendering and Perspectives courses through Camosun College, Barbara's interest in detailing and documenting the character and architecture of Victoria deepened. An exhibition in 1986, at The Art Gallery of Greater Victoria Tea Room, kick started Barbara's second AGGV exhibition. Her seven week long AGGV art rental exhibition titled The Neighbourhood Series – A View of Fairfield included paintings of coastal images, street scenes and neighbourhood rooftop views. A number of her paintings were purchased for board rooms, offices and homes. Many art collectors discovered the historic aspect of Weaver-Bosson's architectural paintings and how she captured the delightful details of everyday life in Victoria's residential character neighbourhoods.
WORLD TRAVELS AND EXHIBITION IN JAPAN

Early in the 1980, Victor had been just diagnosed with Multiple Sclerosis and both artists knew that travel and art exploration was going to be even more important in their lives. Victor's art featured characters and scenes from classic Kabuki plays and folklore of Japan. He had often dreamed of travelling to Japan to experience the Kabuki theater, historic traditions and also the contemporary art and culture of the country.
During the mid 1980's Barbara's painting series was attracting a great deal of interest and she had taken on numerous commissions. With this positive feed back, Barbara and Victor planned for more travel and in Dec 28th, 1986 Barbara quit her art store sales job. The opportunity to focus full time on painting and enjoy more travel came at the perfect time for the two artists.
In 1987, while travelling in Japan for their second time, Barbara's plans also included a visit to Victoria's sister city of Morioka Japan. Carrying letters of introduction from Victoria's Mayor Gretchen Brewin and a painting under her arm, Barbara and Victor went to Morioka City Hall and introduced themselves. On September 4th 1987, city officials and Deputy Mayor Fujine from the office of Mayor Daizo Ohta of the City of Morioka, met with Barbara and Victor. Through the kind assistance of an interpreter, Mr Yasuhiro Yamazaki, Barbara presented the City of Morioka, a gift of her original art, titled Four Residences, Dallas Road and a photographic portfolio of 15 of her Victoria paintings. Later that year after their travels in Japan, both Victor and Barbara received an invitation to exhibit their art in the City of Morioka.
In September 1989, Barbara and Victor flew to Morioka to mount their first international cultural exchange exhibition titled The Bridge.  Barbara's paintings revealed her favourite people, street scenes and rooftop views of neighbourhoods of Victoria. Victor's paintings featured his personal interpretations of Kabuki plays and folklore characters.

During Barbara and Victor's days in the sister city, it was important for Barbara to explore the city and  through sketches and photographs, ultimately capture the character of some of Morioka neighbourhood views. As Barbara and Victor soaked up all the sights and sounds of the lovely northern city, they met many residents who were curious about their art and the city of Victoria. Through THE BRIDGE exhibition and numerous newspaper, television and radio interviews, with open arms, the City of Morioka residents and the friendship committee welcomed the two artists from Victoria B.C.
WINCHESTER GALLERY  —– THE TWO NEIGHBOURHOODS EXHIBITION
 In  August 1991, Weaver-Bosson's Two Neighbourhoods exhibition opened at Bernard Raffo's Winchester Gallery in Victoria and was officially opened and celebrated by the Mayor of Victoria, Honorable David Turner, who welcomed Barbara's special guests and Friendship Delegation from Morioka, Japan and Victoria and Morioka's Friendship Committee members. During the Two Neighbourhoods exhibition, each gallery visitor from Morioka and Victoria had an opportunity to view Barbara's impressions and paintings of Victoria and Morioka's neighbourhoods views.
LIMITED EDITION PRINTS 1993 TO 2016

In 1993, to meet the ever growing demand for her Neighbourhood Series paintings, Barbara established the first of a series of limited edition art prints of her paintings. Soon her Neighbourhood Series prints and art cards offered more public access to her popular upbeat community images. Among Weaver-Bosson's hundreds of paintings and personal art projects, as of 2016, Barbara's published print collection currently contains twenty three Neighbourhood Series prints that feature her signature rooftop vistas, harbour views and expressive and colourful street scenes.
Victoria – As Seen Through the Eyes of one Artist
Barbara Weaver-Bosson's series of artworks document the architectural character of Victoria and reveal an important visual and residential history. As Victoria's neighbourhoods continue to evolve and change, the paintings in Barbara's expansive architectural series have earned a place in the art history of Canada's West Coast urban landscape.
********************
For more details of Barbara's awards, professional projects, commissions and media coverage, concise CV and extensive exhibition history,  please contact Barbara Weaver-Bosson  weaverbosson@shaw.ca